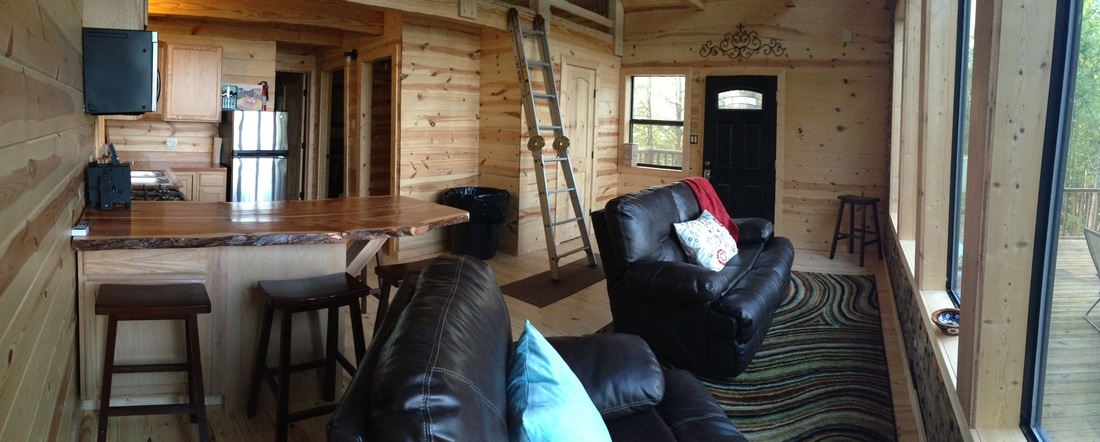 The Cliffhouse at Bear creek is a brand new off-grid luxury cabin
Luxury camping at it's finest!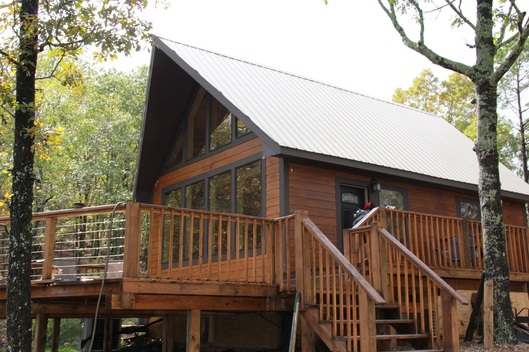 The Cliffhouse has one queen bedroom downstairs and a 300 sq ft queen loft bedroom upstairs.


The upstairs loft bedroom has breathtaking views over the lake.


The loft is accessed via ships ladder from the main room.


There is a full bathroom with shower and a half bath, both downstairs


Max occupancy is two couples or a family of five.




The Cliffhouse may not be suitable for children under ten years old. (ladder)

Access - The Cliffhouse sits 5 miles off the highway and is accessed by US Forest Service roads. Its a beautiful drive, but you will need a car with some clearance and a bit of driving skill to make it in. We oftentimes see white tail deer, turkey, and birds of prey including red tail hawks and various owls. The first 2 miles of the drive is easy, you can drive 25 mph. The remaining 3 miles is slower and requires some attention. You will cross 4 or 5 small creeks on the way in. Water is rarely more than 4 inches deep. There are also grades up to 12% on gravel roads.


There is cell phone service at the Cliffhouse. Verizon and AT&T works best. Sprint does not work at all. There is a new Verizon 4G LTE tower across the lake, we ha
ve seen speeds up to 15MB from the deck.


You will need to bring your own entertainment for the Cliffhouse. No cable TV planned for the near term.

ATVs - Seasonal riding is allowed on the surrounding US Forest Roads in May - Sept 15. However you need to review ALL the rules very carefully and follow them closely. No two up riding unless machine is specifically designed for such. All kids under 18 must wear helmets. STAY ON THE ROADS. No alcohol. The local rangers enjoy enforcing the rules to the last letter. Its possible for a group of riders to rack up several thousand dollars in fines......


The golden hour - use caution and exercise common sense. The Cliffhouse is more than one hours drive to an ER.....



---
Sunrise over Lake Broken Bow....
looks like this almost every day

---

Broken Bow Cabins
Cabinsinbrokenbow
brokenbowlakecabins
brokenbowcabinlodging
brokenbowvacationcabins
beaversbendcabins
flipkey
lakemountaincabins
beaversbendgetaways
heartpinehollow
brokenbowcabinlodging
beaversbendcreativeescape
beaversbendadventures
mountaineercabins
travelok.com/broken_bow



If you own one of these and would like to barter for some time at the cliffhouse, CALL ME!

Diamond DA-20 C1

---